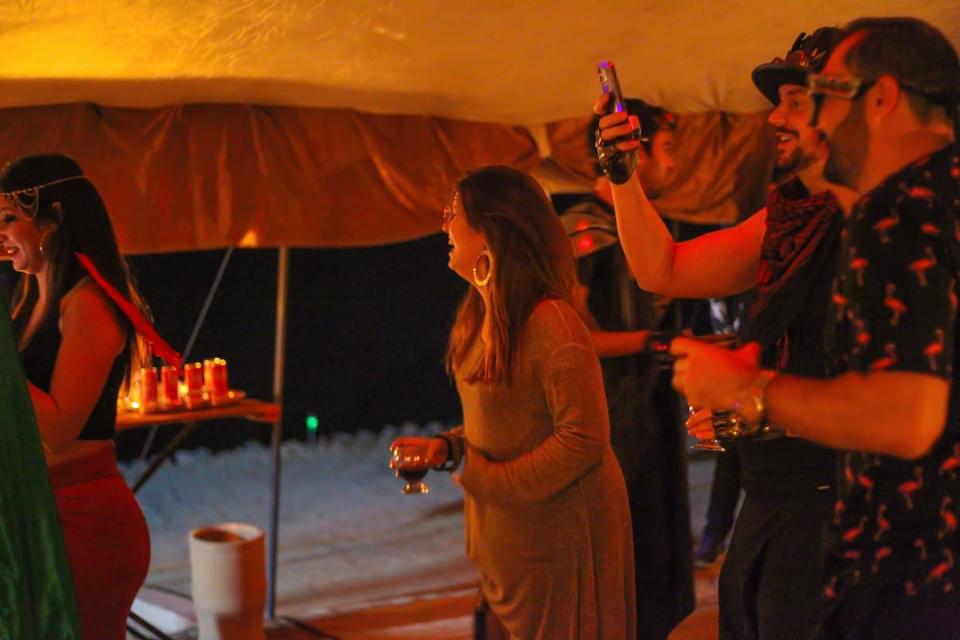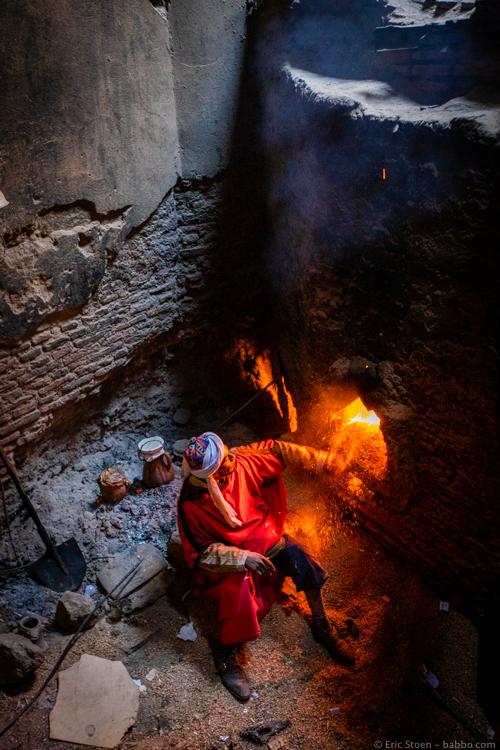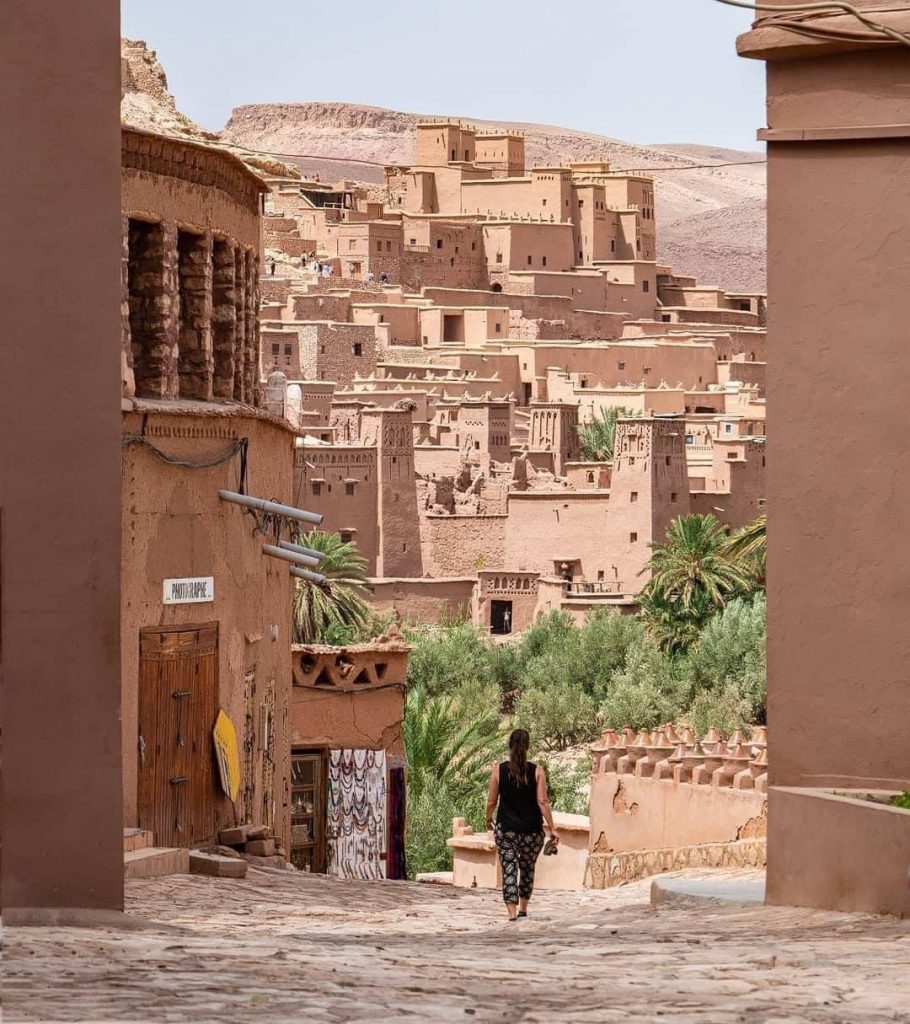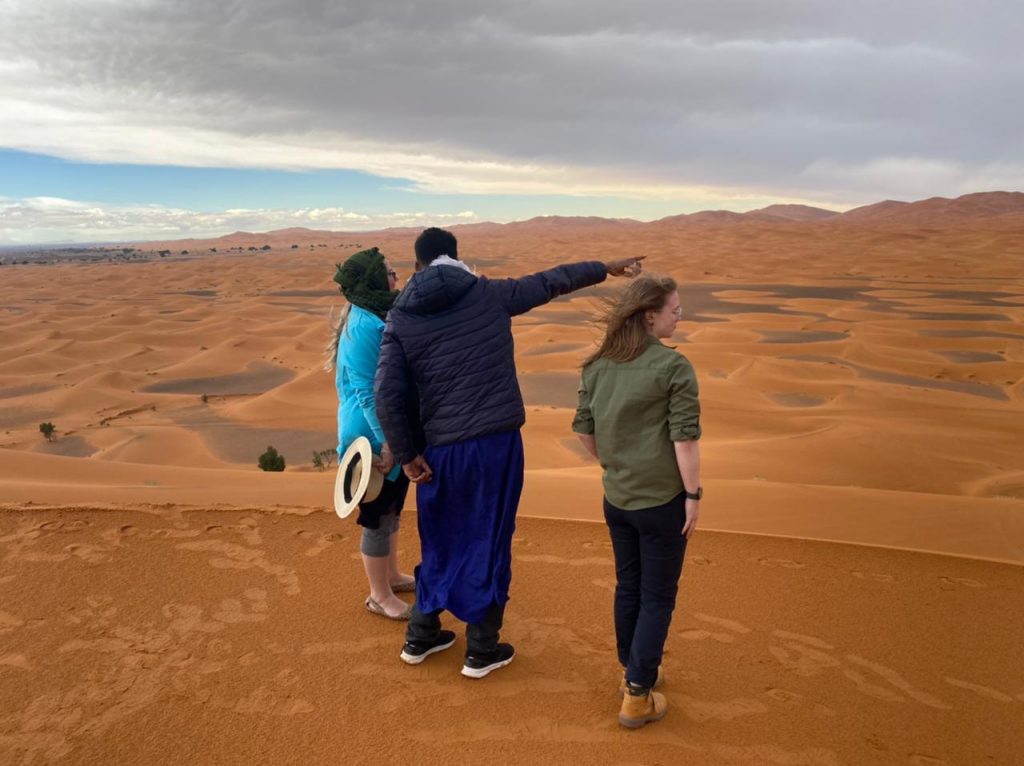 WhatsAppImage2022-04-08at55237AM
WhatsAppImage2022-04-08at55237AM1
WhatsAppImage2022-04-08at55234AM
WhatsAppImage2022-04-08at55219AM
3 Days Tour From Fes to Marrakech
This 3 Days Tour From Fes to Marrakech may either be made in the 'opposite' direction with collection in Marrakech. The places that will be visited will be same in both cases.
This fes to marrakech 3 day desert tour allows more time for walking in the foothills of the Atlas mountains in the unspoilt Ounila Valley, or in the Dades region, and for dedicating to kasbah visits. Enjoy a camel riding through the golden sand dunes of erg chebbi and spend a night in an authentic nomads camp located in the middle of nowhere.
Highlights; 3 Days Tour From Fes to Marrakech
Visit Kasbah Ait Benhaddou UNESCOs World Heritage
Camel Trekking through the golden sand dunes of erg chebbi
Spend a night at desert camp with berber ambiance.
Walk through traditional irrigation system canals underground
Walk through the Todra Valley and Dades Valley
Spend a night in the fascinating almond valley
Itinerary Details:
1st Day : Fes, Middle Atlas Mountains, Ziz Valley, Desert Camp:
In the morning we'll drive toward the Sahara desert, our first stop will be in Ifrane, known as Little Switzerland.Then we'll continue through the Cedar Forest where, with luck you'll seemonkeys. Next we'll head to Midelt where you can enjoy your lunch. Continuing the road
through the Middle Atlas Mountains and observing the nomads that live there. We continue the drive through the scenic Ziz Valley that is surrounded with palm trees stopping at scenic views along the way.
In the afternoon you will have your camels waiting for you to take you to desert camp to spend the night of a lifetime in a luxurious tent under the light of thousands stars.
Overnight in a desert tent including dinner and breakfast.
2nd Day : Desert Camp, Traditional Irrigation System, Todra Valley, Dades Valley:
Wake early to admire the desert sunrise, take breakfast, then transfer out of the dunes by camel-back to rejoin your vehicle to take the road to Fes (or if you are traveling by 4×4, you can be collected at the camp.
Then we will start our journey driving to the Dades Valley via the Todgha Valley and Gorges where we will stop for pictures of the kasbahs built by jews.You'll have a chance to walk through the stunning Todgha Gorges before carrying on to the Dades Valley. Overnight in Dades valley including dinner and breakfast.
3rd Day : Dades Valley, Rose Valley, Kasbah Ait Benhaddou, Marrakech:
After breakfast at your hotel, we'll drive to Marrakech via the Dades Valley again, with its dramatic rock formations and ancient kasbahs, and then on to the Rose Valley, known for its damask roses that are harvested in April.
Continuing on our journey, we'll head to Ouarzazate, known as African Hollywood, where you can see the Taourirt kasbah and tour the movie studios.
We'll then continue on to a UNESCO Heritage site, the Ait ben Haddou Ksar, the largest ksar in Morocco where movies like The Gladiator, Lawrence of Arabia and The Jewel of the Nile were filmed.
Then we carry on to Marrakech through the Tichka Pass, one of the highest mountains in Morocco. Arriving in Marrakech by the afternoon.end of the trip at your accommodation.
3 Days Tour From Fes to Marrakech Include:
4×4 vehicle with driver Speaking English for 4 days, with collection in Fes and drop off in
Marrakech
1 nights guest-house accommodation, each with breakfast and evening meal
1 Night at desert tented accommodation with breakfast and evening meal
Camel Riding To reach Camp 1 hour Trekking ( Camel for each )
Water for the entire Trip
NOT Included in 3 Days Fes to Marrakech Tour:
Lunches
Beverages
Entrance Fees
Tips and Gratuities
Driving Duration of Fes to Marrakech Tour:
Day 1 : 6 Hours Driving | Day 2 : 4 Hours Driving | Day 3 : 6 Hours Driving
FAQs: 3 Days Tour From Fes to Marrakech
How far is Fez from Merzouga?
Erg Chebbi In Merzouga to Fes distance is 449 Kms. However, there will be beautiful stops along the way to the desert and breathtaking views to enjoy.
How Long is the Camel Ride across the desert ? 
1hour camel riding across the golden of erg chebbi, watching sunset then descending to your desert camp for an unforgettable night.
What is Kind of Accommodation in this desert trip ? 
The accommodations will be charming guesthouses in dades gorges. It is a traditional Moroccan house well decorated and equipped for a comfortable stay. 
How is the desert camp in Merzouga ? 
hat is absolutely amazing is that each tent is equipped with a private hot shower room and a flushable toilet. The idea of having such a comfortable space in the Sahara desert is simply incredible. This camping site arose with the aim of offering luxury experiences
Where do we leave our luggage for the camel ride ? 
You will take only what you need with you during the camel ride and for the rest of the luggage, it will be transferred by the car to the campsite.
What to pack for this desert trip in Morocco ? 
It is best to pack your best loose-fit pants, cotton t-shirts, summer dresses and your lovely hats. You will most likely sweat and feel extremely hot, but it is worth it! If you choose to ride on a camel, wear long pants (the camel's fur is a bit rough). Early mornings can be quite chilly, too, so make sure you have also packed a warm fleece jacket to keep you warm. Enjoy!
Want to experience the Sahara desert and the magic it provides? Do you want to get a taste of the city that merges all the cultures in one place? Are you ready for the rich flavours, the vivid colours that will revive your senses to the max?
Bask in the wonders of the Sahara first-hand with a private journey to the desert, all engineered by our experts just for you. Contact us today to learn more!
What is food like on this desert trip in Morocco ?
The food will be variety and will include all of Tajine, Couscous, Kebab, Lamb Ribs, Berber Pizza…etc