Best Sunbathing Beaches in Morocco
If you are visiting Morocco and searching for the best sunbathing beaches in Morocco, this article is for you. Morocco is home to many beaches. Cities such as Casablanca and tangier are home to great and beautiful beaches. In this article, we discuss the best sunbathing beaches in morocco.
Morocco's coastline runs along the Atlantic and the Mediterranean, meaning it has a massive array of beaches with some fantastic spots. Morocco's best beaches get busy during summer, with locals enjoying vacations.
Best Sunbathing Beaches in Morocco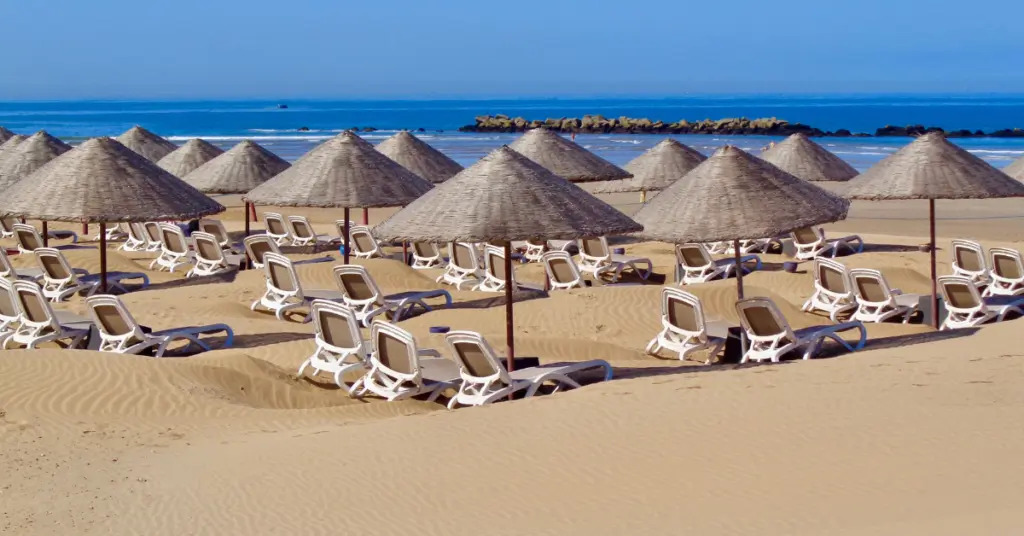 There are many sunbathing beaches in different cities of morocco, but the best of them are mentioned below,
Legzira Beach
This beach is considered one of Africa's most beautiful places. This Beach is famous for its huge rock arch. There were originally two arches, but one is collapsed.
The beauty and charm of this beach are in its remote location. It is a great spot because of its wide sand and red rocks alongside the Atlantic waves.
Legzira Beach is a favourite spot for sunbathing and kitesurfing. The locals enjoy this beach on their vacations, so you will see people sunbathing.
Martil Beach
The beach here is a long stretch of golden sand and blue waters of the Mediterranean. Beyond the town, high green mountains rise steeply from the coast.
At the back of the beach is a wide palm-lined promenade where you will find many cafes and bars. The beach is immaculate, and the locals are known for their kindness and hospitality.
During the day sunbathing are the most popular activity on the beach, but at night, young people congregate around sunset and hang out on the beach until the small hours.
Taghazout Beach
The Taghazout is a fishing village on Morocco's Atlantic coast just north of Agadir. Now, Taghazout is at the Centre of Morocco's surfing scene. If you want best sunbathing beaches in morocco than this beach is best for you.
The beach has golden sand and can be divided into a few sections; in front of the village, the main stretch of sand is just around the rocks at the southern end. Moroccan vacationers come here as well. This beach is perfect for yoga as well as sunbathing.
Dalia Beach
Dalia Beach is Located near the coastal city of Tangier. The golden sand runs into the blue waters of the Strait of Gibraltar. The waters are crystal clear with few waves.
This is the ideal location for visitors who want to escape the crowds and experience the beauty of nature. If you are looking for one of the most beautiful beaches off the beaten path in Morocco, this beach is perfect.
Bouznika Beach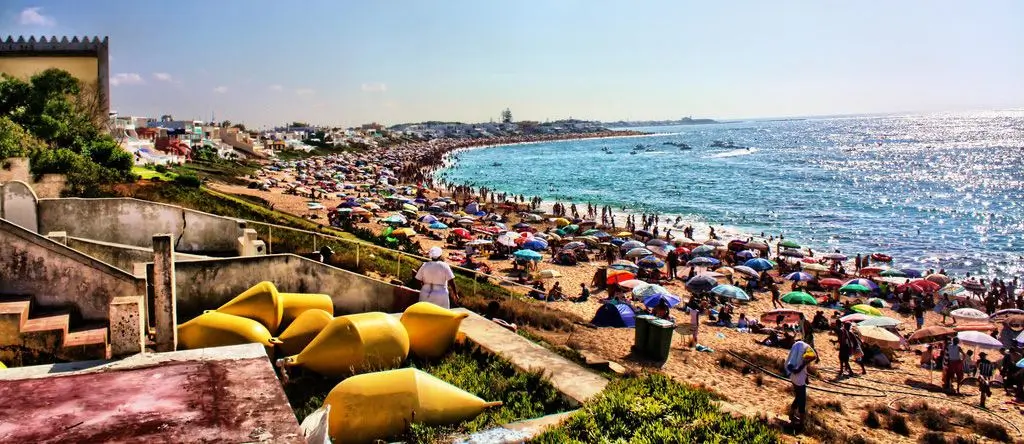 This Beach is the best beach near Morocco's capital Rabat. The beach is a long, wide strip of yellow sand, while the sea is shallow at the water's edge, making it suitable for families.
On weekends or in summer, this beach gets crowded. Facilities are decent here, with sunshades and loungers for rent and many cafés and restaurants.
Monica Beach
Monica Beach is located on the northern outskirts of Casablanca. A vast stretch of whitish golden sand. This is the biggest and possibly most cultural city in Morocco. Monica beach is a good spot for sunbathing.
Tangier Beach
One side of Tangier Beach is on the Mediterranean Sea, and the other on the Atlantic Ocean. Tangier Beach is a vast expanse of sand, and you will find locals sunbathing and playing soccer here.
Beyond the beach is the promenade, where you will find many cafes, bars and restaurants. The expansive city beach is well maintained and is an excellent spot for relaxing on the fine white sand.
This is a vibrant city, and you will find beach clubs and nightlife. This beach is one of the best sunbathing beaches in morocco.
Mehdia Beach
Set on the Atlantic coast near the northern tip of Morocco is Mehdia Beach. There are several beach bars and a water park opposite the sea. This town is also famous for its fish and many good restaurants.
The perfect time to visit this beach is May and September. Mehdia beach is lovely and famous for fishing and sunbathing.
Frequently Asked Questions
List of Best Sunbathing Beaches in Morocco?
Agadir
Mirleft
Essaouira
Legzira Beach
Oualidia
Martil
Taghazout
Dalia Beach
Where to Go in Morocco for a Beach Holiday?
The best place to go for a beach holiday is Agadir. Tangier is also the best place to go for beach holidays. Tangier is a crowded city, and you will find beach clubs and nightlife.
Conclusion
That's the detailed guide about some amazing beaches in morocco where you can enjoy sunbath. There are many beaches in morocco where you can enjoy, but for sunbathing, there are some famous beaches mentioned above.
Hope you loved that comprehensive guide about best beaches in Morocco, visit us for quality content about Morocco.