How Much of Morocco is Desert
The area of morocco is essentially a desert. For your information, we will discuss "how much of morocco is desert." The most incredible desert in morocco is about 9 million square kilometers.
Due to climate change and human influences, deserts are displacing animals and people from neighboring regions. There are mainly two desserts in morocco that tourists visit morocco. Morocco is known for its Sahara desert.
The climate becomes very dry or hot from east to south of the Atlas Mountains. Although you get the feeling that the wind is constantly changing the shape of the dunes, they are surprisingly stable.
How Much of Morocco is Desert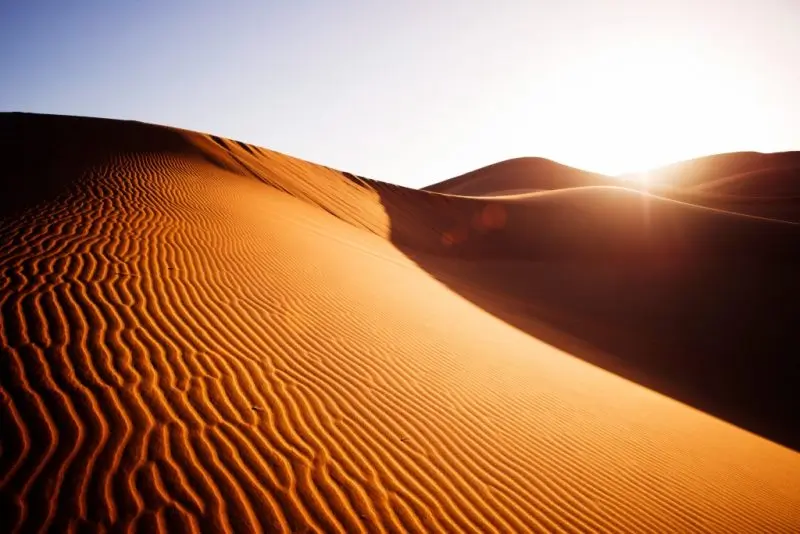 When spending some time in morocco, we have mainly 3 options: Merzouga or Erg Chebbi desert, Zagora, and erg chigaga desert.
Erg Chebbi desert
Merzouga is also known as erg Chebbi desert. The Arabic word Erg means "dune field" and describes vast, flat areas of the desert containing dunes created by the wind and no vegetation.
Erg Chebbi desert is in the south of Morocco, surrounded by rocky Hamada's; both offer impressively beautiful dunes of up to 500ft in height. Just like the ocean, the desert is forever changing.
This desert is considered the largest and most beautiful desert all around morocco. It is hard to imagine any journey to Northern Africa without a little tour into the Sahara as it can be found here: the desert in its purest of forms.
A seemingly endless sea of sand and colorful dunes stretches to the horizon, playfully shaping waves, combing the ridges, and constantly creating new shapes with its hungry breath.
Zagora
If you are visiting morocco, you must have a question how much of morocco is desert? For the answer, we are discussing some famous deserts of morocco.
Zagora is the desert in the south of Morocco where the Sahara begins. This desert doesn't have dunes, and it's not considered a part of the Sahara desert.
The natural Sahara desert of the Zagora region is located 98 km from the Zagora town, close to M'hamid village. There, the desert has beautiful dunes, which are called Erg Chigaga Desert.
This dessert is near Marrakech, located 360km via the route to N9. There are no high and giant dunes that you expect to see, only little ones because it's a dry stone desert, but it still has its unique charm.
Chigaga
Erg Chigaga Desert is a little bit bigger at 40km in length than Erg Chebbi. Since it is more difficult to access, it is generally considered wilder of the two Ergs. At dusk, the Sahara offers a truly fantastic and magical experience.
When the day comes to a close, and the colorful spectacle begins, the desert unfolds its full calming and absorbing power. Chigaga sunsets are a sight to behold.
When the weather is good, you can easily get lost in the unbelievable star-studded night sky, counting the falling stars. The sound of silence in the desert at night completes the experience and is something that will stay with you for a while.
Benefits of Visiting Desert
Healing heat
Sunshine's supplies unlimited vitamin D
fewer people, less stress
support for chronic health conditions
breathe easy
healing for the soul
Access to active living
Enjoy impressive sunset over the dunes
Plants in the Desert of Morocco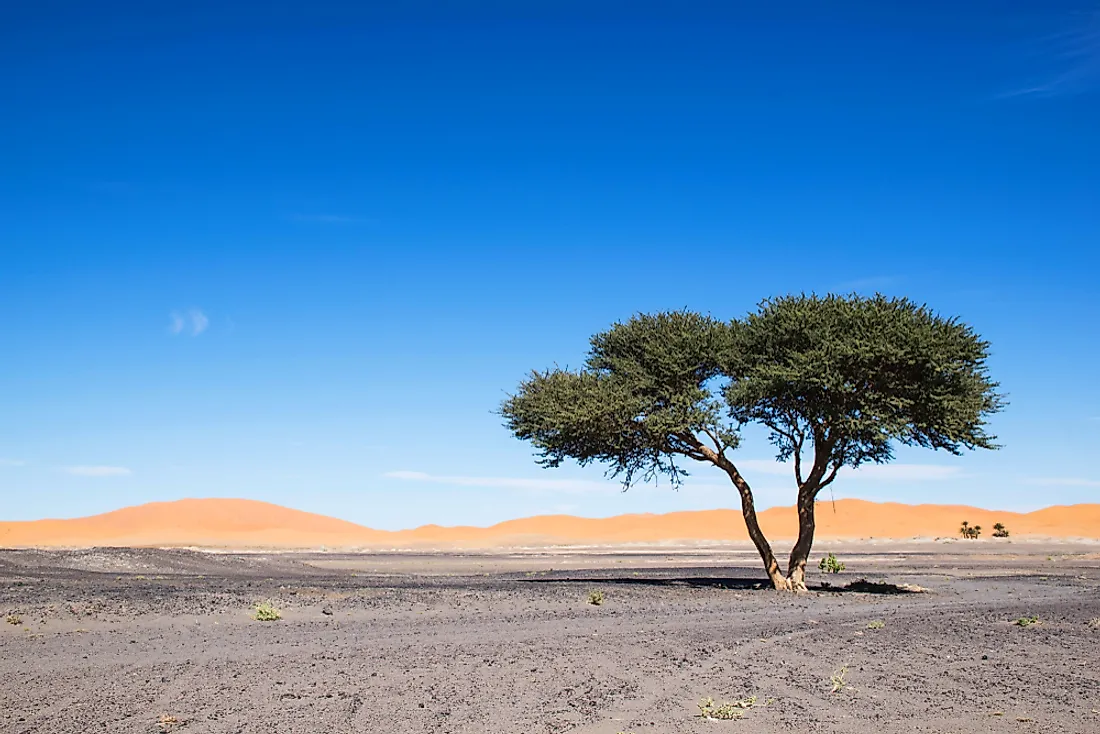 We are discussing  "how much of morocco is desert." And plants are also part of the desert. Even though it rains sometimes, and one always imagines the desert to be completely lifeless, there are many plants here on closer observation.
In the oases, which usually follow the course of a river that carries water at least temporarily, you will find fruit trees and date palms. These are cultivated, of course, and are not necessarily regional here. A Lot of vegetables are also cultivated.
Otherwise, there are areas with many acacia trees, which are especially popular with the goats. And sometimes you can find wild camomile and a plant eaten in soups.
An exciting tree is tamarisk, which can reach groundwater with its roots up to 35m deep and does well with high salt content. In spring, stems with yellow flowers grow directly out of the sand.
Animals in Morocco's Desert
Surprisingly, there are also many animals in Morocco's desert. Usually, the first things that come to mind are camels, scorpions, and snakes. The most common beetles are giant black beetles. They are everywhere in the sand.
Around desert grass, you can also often find gerbils, small lizards, and jaculus, or at least their tracks. Interestingly, there are also hedgehogs but rather near the oases. Scorpions and Snakes are super rare to see.
FAQS- How Much of Morocco is Desert
Is the Sahara Desert in Morocco?
Morocco is a multifaceted country, with exciting cities, the Atlas Mountains, and last but not least, the Sahara Desert. Travelers who visit morocco also go to the Sahara deserts. And also, Morocco is famous for its Sahara deserts.
How Big is the Moroccan Desert?
A massive part of morocco is the desert. The length of the morocco desert is 4,800 km, and the width is 1800 km.
Final Words
In this article, we have discussed "how much of morocco is desert." The best option with all the characteristics of a desert is erg Chebbi desert, also called Merzouga.
For those planning to visit morocco and have limited time, we recommend you visit Zagora and chigaga Sahara desert and spend a night in the desert camp. Hope you loved that content about Desert of  Morocco, visit us for more of this and the best tour packages.