Things to Do in Marrakech at Night
Marrakech is the 4th largest city in Morocco. This city is one of the country's major tourist spots. This article will discuss "things to do in Marrakech at night."
Marrakech is known for its nightlife. There are many nightclubs in Marrakech that are popular among both locals and tourists. Clubs also have live music and DJs playing international and Moroccan music.
There are several nightlife options in the historic walled and medina city. Visitors and tourists readily find alcohol at western style restaurants, bars, and hotels. If you want to experience the authentic nightlife of Marrakech, then you should read this significant article.
Things to Do in Marrakech at Night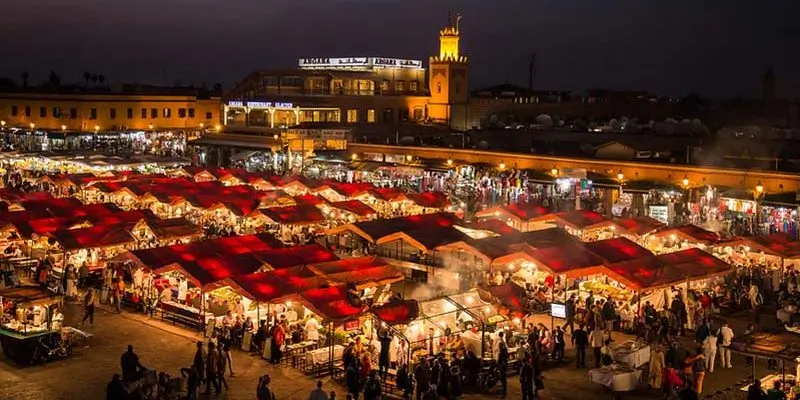 There are many places to enjoy in Marrakech at night because Marrakech is very famous for its nightlife. Some of the sites are mentioned below,
Bars
To make it easier to stay in Marrakech, we have divided some of the city's best bars.
Le Salama
Le Salama is a Morrocan brasserie featuring atmospheric, colonial-era decoration and a rooftop lounge oversight the center of the action in Djemma El Fna.
Also, you can settle in with a hookah pipe and choose from a complete list of cocktails, spirits, and wines while admiring the view of the distant Atlas Mountains. Local DJs and belly dancers also perform regularly.
Kosybar
Kosovar follows a similar concept to Le Salama. This bar is located a few minutes' walk from El Badi palace. If you want dinner, you can come here and stay for cocktails at the rooftop bar.
Café Arabe
Our third bar on the top list for drinks in medina is café arabe. Gather into the souk within easy walking distance of Djemma El Fna. This bar specializes in Italian Morrocan fusion cuisine and your choice of Morrocan wines and champagne.
Café du Livre
For a hangout spot complete with a library, board games, and a piece of live music on Friday or Saturday, choose café du livre. It's an excellent place to start your evening. From Tuesday to Saturday, they offer some of the city's most affordable beer and wine.
Point Bar
Visiting bars is one of the things to do in Marrakech at night. Those who wish to stay up a little later will do well at the point bar. This bar is a contemporary tapas bar with a nightly DJ set and a drink menu with cocktails and shooters.
Barometer and 68 Bar
With its underground laboratory, a barometer bar wouldn't feel out of place in New York City.
Meanwhile, 68 bar vin is a cozy wine bar offering an extensive choice of imported labels. You can also smoke there.
Le Churchill
Le Churchill is one of several drinking establishments at La Moumounia hotel. Padded red leather walls and Leopard print carpets set a great romantic tone.
Rooftop Garden
It is the rooftop garden at the pearl and all the bars at Royal Mansour Marrakech. The former is open for visitors and guests. At Royal Mansour, you have your choice of elegant watering holes.
This bar is a tribute to 1920s glamor, with a handcrafted silver ceiling and a vintage carved chair.
Nightclubs
Clubs in Marrakech are mainly for tourists. One is the best known and most established is 555 Famous club. It has a reputation for hosting international DJs.
For a less conventional nightclub experience, try Palais Jad Mahal or a Theatro. Both offer moulin Rouge-inspired frivolity with fire eaters, belly dancers, and acrobats.
Marrakech Night Market
Visiting the night market is one of the best things to do in Marrakech at night. The most incredible image of Marrakech, and the biggest draw, is the night market of Jemma El Fna square.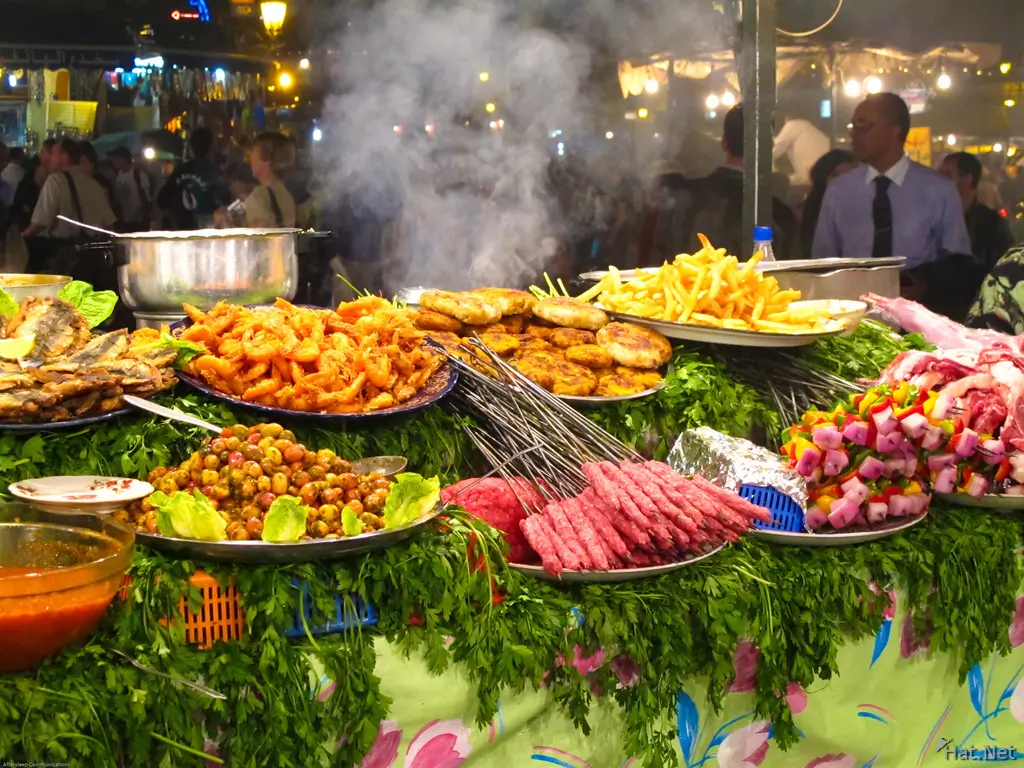 Food of Djemaa El-Fna
Djemaa El-Fna is the leading market square in the old city of Marrakech. It is the main square for commercial activities for tourists in this Morrocan city.
After 7 pm, stall holders will transform the square into an open-air restaurant in less than five minutes. The food at this market was incredible. Djemma El Fna has a lot to offer. Several water carriers are walking around the market.
Some popular dishes include sheep's brains, skewered hearts, snail soup, and more. There are many stalls which are famous for different food.
Stall no 1 is famous for its brochettes or kebabs. Stall no 32 is known for its harira, a vegetarian soup served with bread. Stall no 14 is excellent for fried fish and calamari.
FAQS- Things to Do in Marrakech at Night
Where to Stay in Marrakech for Nightlife?
Many people come to Marrakech to explore the old city. For tourists or travelers hoping to experience Marrakech's nightlife, a stay in hivernage is more appropriate. Hivernage is home to the most prominent hotels and nightclubs.
What to Do in Marrakech in 2 Days?
2 days is enough to visit Marrakech. In Morroco, Marrakech is the perfect spot for tourists.
Bahia palace
El Badi palace
The Saadian tombs
Jemma El Fna
Ben Youssef madrasa
Majorelle gardens
La Kou Toubia
Conclusion
This article discussed "things to do in Marrakech at night." Marrakech is famous for its nightlife. In Marrakech, there are many places to visit like clubs, bars, and the very renowned market Jemma El Fna known for its nightlife.
Check our amazing Fes to Marrakech Desert Tour Package to get full adventurous experience of this beautiful city.