Top 3 Cities to Visit in Morocco
In this article, you'll learn about the top 3 cities to visit in Morocco. According to world data, about a total of 3 million tourists visited Morocco in 2020, ranking 53 in the world.
Morocco has six coastal resorts for those who buy homes for holidays and tourists. Five of them are on the Atlantic coast and one on the Mediterranean. Morocco is a land of mysteries and magic. From peaceful deserts to bustling, colorful cities, it has all.
Morocco has old royal cities rich in tradition, history, and character. It has marvellous beaches along extended coastlines, diverse mountain ranges, and the Sahara Desert. People there are very hospitable and have friendly nature.
Top 3 cities to visit in Morocco
There are many amazing cities in Morocco, but here we will discuss the top 3 cities to visit in Morocco. Let's jump to them without wasting time:
Marrakech
Marrakech is also known as the Red City behind the thick, ochre-hued walls surrounding the old town. Marrakech is one of the fascinating destinations in the world. It has fantastic and eye-catching places like Majorelle Garden and the Saadian tombs.
The other famous places attracting tourists are Bahia Palace, Badi Palace, the striking Koutoubia Mosque, the energetic Djemaa el-Fna Square, and the Menara Basin. These fantastic places make it a top city in Morocco.
When it comes to food in Marrakech, you'll have plenty of options to try. Marrakech's most delicious foods are Tagine, Bastilla, Couscous, Chebakia, Moroccan Mint Tea, Bissara, Harira, zaalouk, and Msemen.
If you're planning for a tour to Morocco, Marrakech is a superb first stop. We propose you live here for approximately three to four nights. During this time, you get a fantastic perception and can easily visit the maximum crucial points of interest in Marrakech.
If Marrakech is your most effective tour vacation spot in Morocco, you should live a touch longer, perhaps approximately five nights. So, you could take one- or two-day trips (e.g., to the Atlas Mountains).
Fes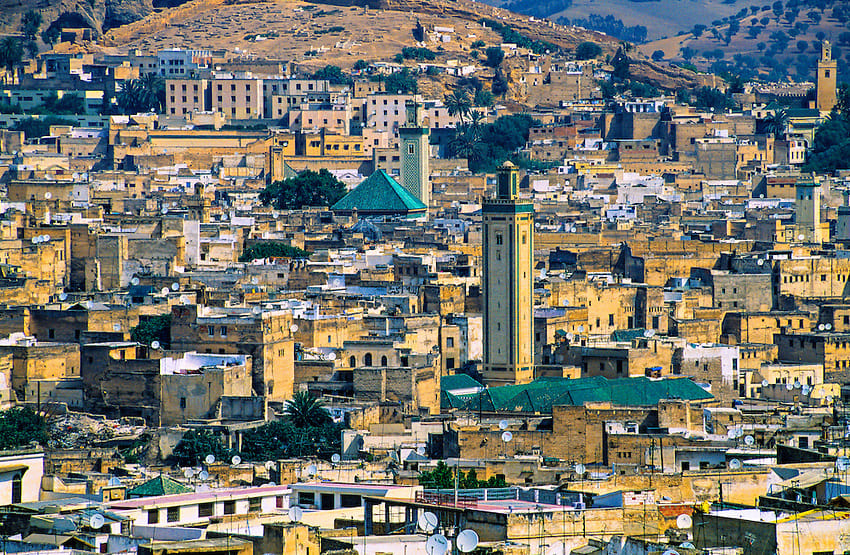 The Medina of Fes is the oldest city and old capital of Morocco. It was found in the 9th century. It is also a UNESCO World Heritage site because of its cultural and historical significance.
Don't miss visiting Jnan Sabil Garden, Bou Inania Madrassa, Al Atterine Madrassa, and Dar Al-Makhzen. Watching the sunset from the top of the roof is a fabulous view. Africa's oldest university, also called the kairaouine Mosque is in Fes.
Fes is known for its handicrafts and, remarkably, its carpets. When it comes to staying in Fes, you should avail yourself of the opportunity of living in a traditional riad. These are kinds of Moroccan guesthouses located in the older part of the city and centred around courtyards.
To enjoy a traditional meal, you can visit Riad Rcif, Dar Roumana, and Riad Louna. The famous dishes of Fes include Pastilla, Snail Soup, and Almond Briwat.
Rabat
Rabat is one of the imperial cities and the capital of Morocco. It has the country's most important museums, the Royal Palace and Mausoleum of Muhammad 5. Another major thing is the Chellah site and Oudaias Qasba to visit.
There are many reasons to visit Rabat that are The Medina, Beach life, discovering its rich history, beautiful parks like Jardin d'Essais and delightful Andalusian Gardens, and delicious food.
With its present-day infrastructures and numerous festivals, Rabat is a dwelling city. Airport, tram, buying centers, cafés, and restaurants, all of the facilities are inside your reach. That's 1 of the reason it is in the top 3 cities to visit in Morocco.
Revel in the bustling vibes of tracks that Rabat celebrates like no different city, from Mawazine to jazz au Chellah and plenty of others that fill the environment with sounds and rhythms from around the world!
Why did you even go there if you are in Rabat and don't try these dishes? You should taste Pate, Stew, Causa, Laing, Crepes, Ramen, and Salona from restaurants like Dar El Medina, Dinarjat, Golden Fish, and Yamal Acham.
Conclusion:
These places described above are the top 3 cities to visit in Morocco. We hope you know the places to visit and the food to try in these cities. These places are deep-rooted in culture and traditions. You can check our amazing Morocco Tour Packages to experience something unique.