12 Days Morocco Tour Itinerary From Casablanca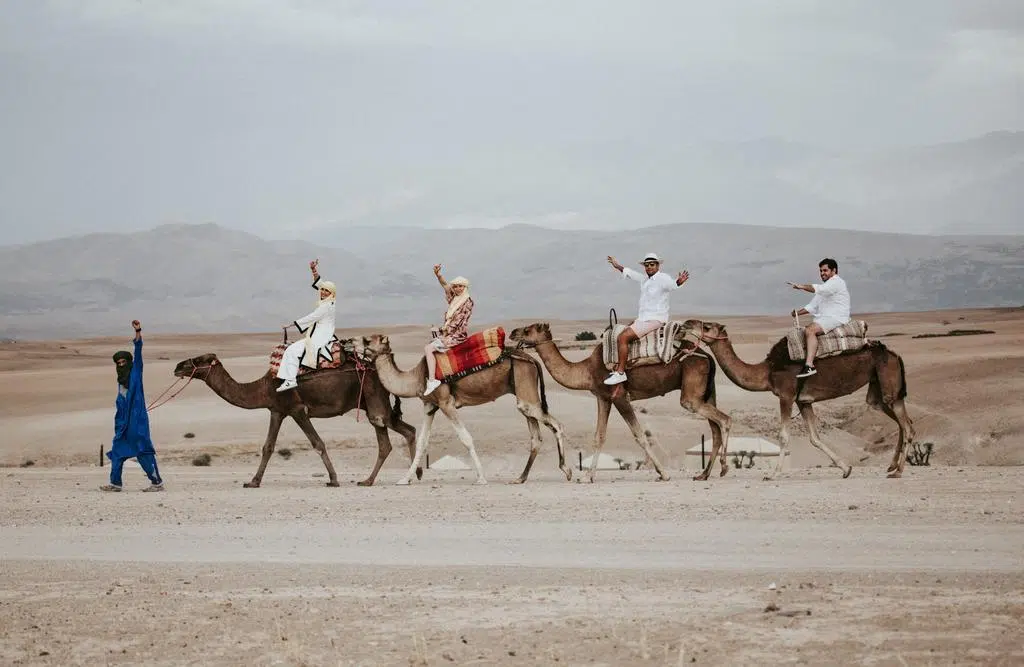 THE BEST 12 Days Tour From Casablanca – Marrakech and Desert Camel Trekking
Overview : 
This 12 day tour from Casablanca to Marrakech or back to Casablanca is packed with traditional experiences and local interactions, making it ideal for any traveler who wishes to truly absorb the fascinating history, culture, food, nature and landscapes of Morocco. 
This Casablanca Desert Tour can take you on an incredible journey through this diverse and culturally rich country. Morocco offers a wide range of experiences, from exploring ancient cities and historical sites to enjoying the natural beauty of the Sahara Desert and the Atlas Mountains.
Tour Pricing

based on 2 people traveling in a private Vehicle with a Professional English-speaking Driver sharing Twin/double ensuite rooms.

From 850€ Per Person
Package Includes : 
Transport in a private air-conditioned vehicle 4×4 Toyota Prado Tx or Deluxe Mini-van 

Experienced local english-speaking driver 

All nights accommodations in air-conditioned rooms/suites with private bathroom

2 nights in a desert camp with a private toilet and shower, lamps and traditional Moroccan furnishings. 

Daily breakfast

Dinner in the Sahara Desert and Skoura Oasis 

Vegetarian option available 

Sandboarding 

Tea, Coffee and mineral water in the camp

Luggage service to the camp and all accommodations 

Entrance fees to historical monuments 

Local guides in Volubilis, Fes and Marrakech 

Visit all interesting places during your journey of 12 day tour from Casablanca. 
Package Not Include : 
Beverages

dinners in Rabat, Chefchaouen, Fes and Marrakech

Lunches 

Tips 

Extras
12 Days Tour From Casablanca Itinerary Details : 
1st Day : Casablanca < Rabat 
We'll pick you from the airport of Mohammed V In Casablanca starting our 12 days tour from casablanca by exploring the largest mosque in Morocco ( Hassan 2 Mosque ) which is the only one that allows visitors to get inside in a private group guided tour. After, we drive to Rabat, the capital of Morocco, where we'll have lunch and start our visit to Hassan Tower, Kasbah Oudayas. In the afternoon, check in your accommodation and continue exploring the medina Rabat at leisure. 
2nd Day : Rabat < Tangier < Chefchaouen 
After your breakfast, we start heading north to Tangier where you'll have a chance to walk in the hercules caves overlooking the mediterranean ocean, breathtaking views from Cap Spartel, visit the American legation museum and explore the wonderful medina leisurely before heading to Chefchaouen. Arriving at the blue pearl, check in your accommodation and go for a local dinner in one of the restaurants inside the old town. 
3rd Day : Chefchaouen < Volubilis < Fes 
This 12 days tour from Casablanca to Marrakech allows you more time in the morning to explore the captivating medina of Chefchaouen by foot. Depart around 12pm to Fes through the Rif mountains and Volubilis, Roman Ruins where you'll have a guided tour exploring The Mauritania capital, founded in the 3rd century B.C., became an important outpost of the Roman Empire and was graced with many fine buildings. Arriving at Fes, check in your accommodation and go for dinner in one of the local folklore restaurants in Medina. 
4th Day : Fes Exploration 
After your breakfast, you will meet your local guide and  your visit will start by entering through the Royal Palace gate, and continuing with the Jewish quarter, the first Mellah ever built in Morocco which dates back to the sixteenth century. We will ensure that you visit all cultural and historical sites including the famous Al Karaouine University, the oldest in the region, the Tanneries, the Attarine museum and Mulay Idriss mausoleum. After lunch, you will visit the tiles cooperative and then experience a wonderful panoramic view over the whole Medina of Fes.
Enjoy Fes medina at night at leisure and go for dinner to a local restaurant in the new town.
5th Day : Fes < Ifran < Cedar Forest < Merzouga 
Depart early around 8:30 am from Fes to Merzouga through the fascinating town Ifran, and cedar forest in Azrou where you'll have the chance to feed the monkeys. Later, continue to the desert along the spectacular Ziz Valley, stopping for panoramic views. Arriving at the desert where you will ride your camels through the sand dunes, stopping for sunset before getting to the campsite. Sip a cup of tea and enjoy your dinner and listen to a berber music around the campfire. 
6th Day : Nomads, Petroglyphs, Desert camp 
In the morning, you'll have a tour in the desert exploring the area. Visit Khamlia village, have tea with the nomads and wander around the rock engravings. Later, pry out for fossils. In the afternoon, to Erg Chebbi for another camel ride and enjoy a beautiful sunset again.
7th Day : Merzouga < Rissani < Todra Valley < Skoura Oasis
Leaving the Sahara desert behind, travel westwards to visit the foothills of the Atlas mountains and the famous natural Todra and Dades Gorges. Visit the local market in Rissani and enjoy the local food. 
Later, we follow the direction of the Dades River west to reach the Skoura oasis , with the Atlas mountains still visible to the north. Overnight in Skoura Oasis in the middle of the palm trees in one of its tranquil lodges. 
8th Day : Skoura Oasis < Kasbah Glaoui Pacha < Marrakech 
Visit some of the south of Morocco's most intriguing kasbah monuments, en-route to Marrakech, before crossing the High Atlas mountains. The Kasbah Amridil at Skoura, the UNESCO World Heritage Site of Ait Ben Haddou, and the Telouet Kasbah. Enjoy the patchwork of Berber villages in the river valleys in this region and the contrast of colors as the scenery changes; from arid pre-Saharan to alpine to farmland and olive groves. Cross the mountains at the Tichka Pass and gradually descend to the plain of Marrakech, expecting to arrive around 5pm. Check in your accommodation and go for a walk to the famous night market Jemaa Lafna square. 
9th Day : Marrakech Tour with Local Guide 
Today, you'll have a full day tour of Marrakech with our local guide starting by the hidden souks inside the Medina, Visiting Bahia Palace, Saadien Tombs, Koutoubia Mosque and learn about the wonderful architecture of the Ben Youssef Madrasa. In the afternoon, your driver will take you out of the old town to Garden Majorelle,which is a famous botanical garden located in Marrakech, Morocco. It is one of the city's most popular tourist attractions and is known for its vibrant blue buildings, exotic plants, and serene atmosphere.
10th Day : Marrakech To Essaouira 
Today, we drive about 3 hours, then you will leisurely explore the ancient port of Mogador, built by the Portuguese in a narrow peninsula with a huge sand crescent. Perfectly sheltered by stunning French-built walls of the eighteenth century, the city is largely pedestrian and is divided into various districts for design in grid form. From the top of Skala you can see the colorful fishing port and Spanish fortresses and guns. Essaouira is also famous for its handicrafts wooden objects perfectly interspersed with lemon wood, ebony, nacre or copper or silver threads. 
Enjoy the evening in Essaouira at leisure. 
Overnight in a riad overlooking the Atlantic ocean including breakfast.
11 Days : Essaouira < Oualidia < Casablanca 
After your breakfast, we drive along the Atlantic Ocean south towards Essaouira. Have lunch in Oualidia if you are seafood lovers somewhere in the port. Then continue driving to Casablanca.  Overnight in Casablanca Centre. Enjoy the night in Casablanca or go for dinner At Rick's Cafe. 
12 Days : Transfer to the airport at your flight time. 
Today, our 12 days tour from Casablanca comes to an end. 
Frequently asked Questions of the 12 days tour from Casablanca 
What To Pack for this Casablanca Desert Tour : 
A small towel

Wet wipes

Hand disinfectant

Sunscreen at all time of the year

Lip balm

Warm clothes for winter months including hat and gloves

Swim suit

Travel first aid kit

Comfortable shoes + Sandals
What's Kind of Accommodations : 
In this 12 days tour from Casablanca to Marrakech, you'll be staying in traditional authentic riads in the cities Rabat, Chefchaouen, Fes, Essaouira and Marrakech. In the desert, you'll have the option to choose between Standard desert camp or Luxury Desert Camp. In Skoura Oasis, you'll be staying overnight in Kasbah. 
Note : We always choose high-end standard accommodations for a great stay experience and we choose upon availability and we'll let you know of any updates once you confirm your booking with us.
How to Book this 12 days tour from Casablanca to Marrakech : 
Once you complete the form, we'll ask you for a small deposit and once we receive it ( please make sure to send us a screenshot of your transaction ) then we automatically send you a confirmation invoice of your 12 Days Tour Itinerary from Casablanca. 
Cancellation Policy : For a full refund, cancel minimum 10 days prior to the start of the trip.
Check out the 12 Days Tour From Casablanca Routes on the Map