Best Beach Towns in Morocco
If you are visiting Morocco and looking to spend some time at the beach, we have some best beach towns in morocco that you can enjoy.
Morocco is known for its amazing cities like Marrakech and the Sahara desert, but there are also plenty of beautiful beaches to be explored. Some beach towns are much smaller than the average tourist sites people visit.
Some of these beaches are a little more developed for tourists and travelers. The beaches in the country are a top pick for tourists visiting Morocco for the first time. We will discuss some beach towns to enjoy the beaches.
Morocco Beach Towns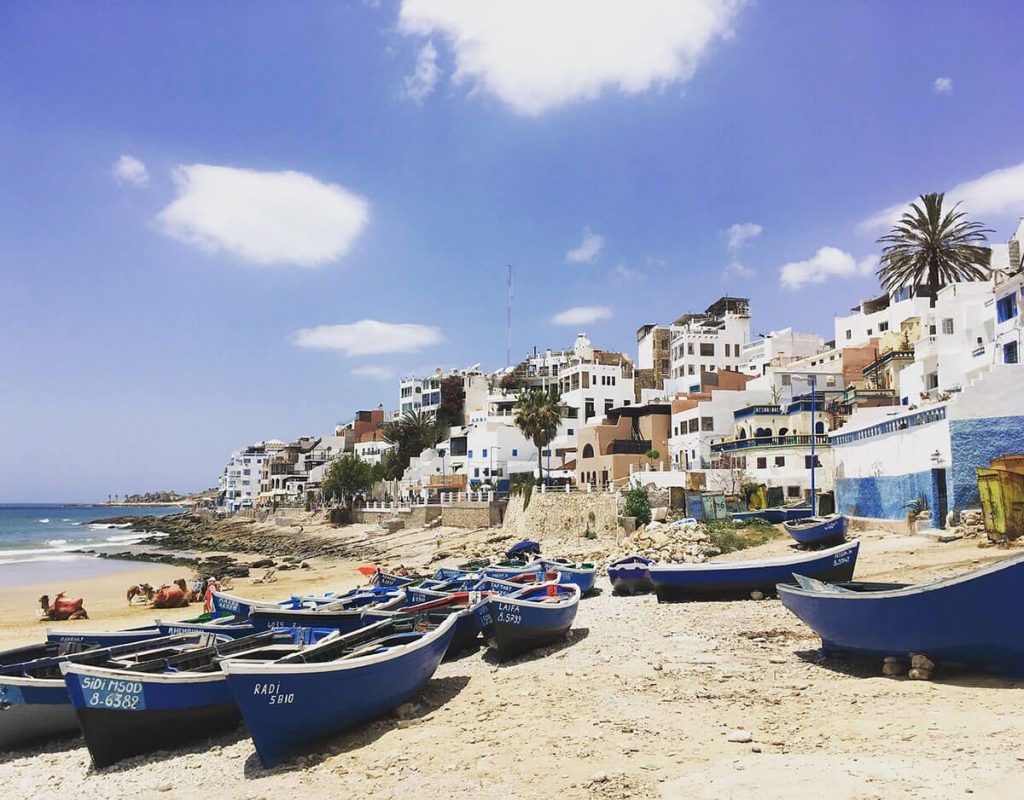 Here is the list of best beach towns in morocco.
Essaouira
Essaouira is a covered fishing town west of Marrakech. It is about 3 hours away from Marrakech, which makes it easy to reach. This town is also much more developed for tourism than other beach towns.
So, most international tourists and travelers population end up visiting this small and historic town to experience some fun at the beach. In this town, you'll see woodwork, art, freshly minor artifacts, and stalls of fresh fish.
Essaouira is quite windy. However, Essaouira is known for kitesurfing and windsurfing because of this, so you could try some of this surfing. Most travelers say they were happy because the pace felt different from Fes or Marrakech.
Agadir
Unlike many other smaller beach towns, Agadir is one of Morocco's biggest and most developed seaside cities. Agadir is south of Essaouira by about 2.5 to 3 hours, adding driving time to stay at this beach.
However, if you are looking for a friendly resort or hotel and an excellent relaxing beach experience, this is the place for you.
Feel at home in a downtown lined with modern casinos, restaurants, cafes, and some fun-filled activities at the seaside.
Taghazout
Taghazout is one of the best beach towns in Morocco for surfers. The severe guys get to spots such as Killer Point, Anka Point to the north, and La Source, while the not-so-serious only get as far as the appropriately named Hash Point.
There's a large, bare, bleak campsite overlooking the southern beach. Hotel Atlantique has tidy rooms and sea views in the village if somewhat spooky decoration.
Al Hoceima
This beach town is in the north of Morocco. Al Hoceima is one of the best beach towns in morocco and the most famous tourist destination in all of Morocco because of the abundance of isolated beaches and a scenic view of the Rif Mountains.
It's also known for being one of Morocco's cleanest and safest cities. You'll find yourself in peace where mountains meet the sea. The center of Al Hoceima is a replica with stone buildings and colonial-inspired architecture.
You'll enjoy exploring the small town. During your visit, explore and visit Plage Asfiha, a golden sand beach across from the beautiful little island Peñón de Alhucemas.
Asilah
This is a small beach town located in Northern Morocco. This town's white and blue walls give it a peaceful feeling, similar to the blue town of chefchaouen. The city walls of Asilah are beautifully preserved, remaining fully intact.
It's historical in a way that draws you in. The charm is one of the reasons that Asilah has become a popular favorite among foreign tourists and travelers. Because of this, Asilah has also earned a reputation. This beach town also has some of the best sunset spots.
Safi
Safi is another fishing port that lies on the western side of Morocco on the Atlantic Ocean. This beach town is tiny and doesn't get as many international tourists. There are many exciting stalls to browse.
You'll see beautifully curved plates, vases, and other items. Paradise Beach is the best beach in this town, where you can take a camel ride, play games like soccer and netball, and have fun in the water.
Also Read: Best Sunbathing Beaches in Morocco.
Morocco Beaches near Marrakech
Morocco is a budget travel destination, despite its rise in popularity. There are many beaches in Marrakech that you can enjoy. Also, there are beach resorts. Most of them are luxury beach resorts. Beaches are one of the best places in Marrakech to enjoy.
Some of the beaches near Marrakech are mentioned below,
Oued Laou Beach
Agadir
Essaouira
FAQs: Best Beach Towns in Morocco
Imsouane is the most beautiful beach in morocco, located 82 km north of Agadir. This is a small fishing village. According to a ranking established by the famous magazine Forbes, Imsouane is among the 27 most beautiful beaches in the world.
1: Playa Blanca.
2: Dalia Beach.
3: Belyounech Beach
4: Martial Beach.
5: Quemado Beach.
6: Charrana Beach.
7: The "Blue Pearl" Beach.
Conclusion
In this article, we discussed the best beach towns in morocco. There are many beach towns in morocco, but we have discussed the best of them. If you stay in morocco, you must visit some of the beaches mentioned above.