Family Resort In Morocco
Morocco has a wide range of lodging choices. When visiting Morocco, you might worry about finding a family resort in morocco to stay in. There are many resorts and hotels resemble resorts in Morocco.
The resorts in Morocco may be found on the coast and in the heart of the cities, and they include amenities like pools, spas, a variety of activities, and cuisine for guests who want a more lavish stay.
Every vacation style and price range can find a family resort to stay at. Once you reserve a stay at a premium family resort in Morocco, pamper yourselves with their facilities. so you can make your choice more easily through our list of "family resorts in Morocco".
1. Banyan Tree Tamouda Bay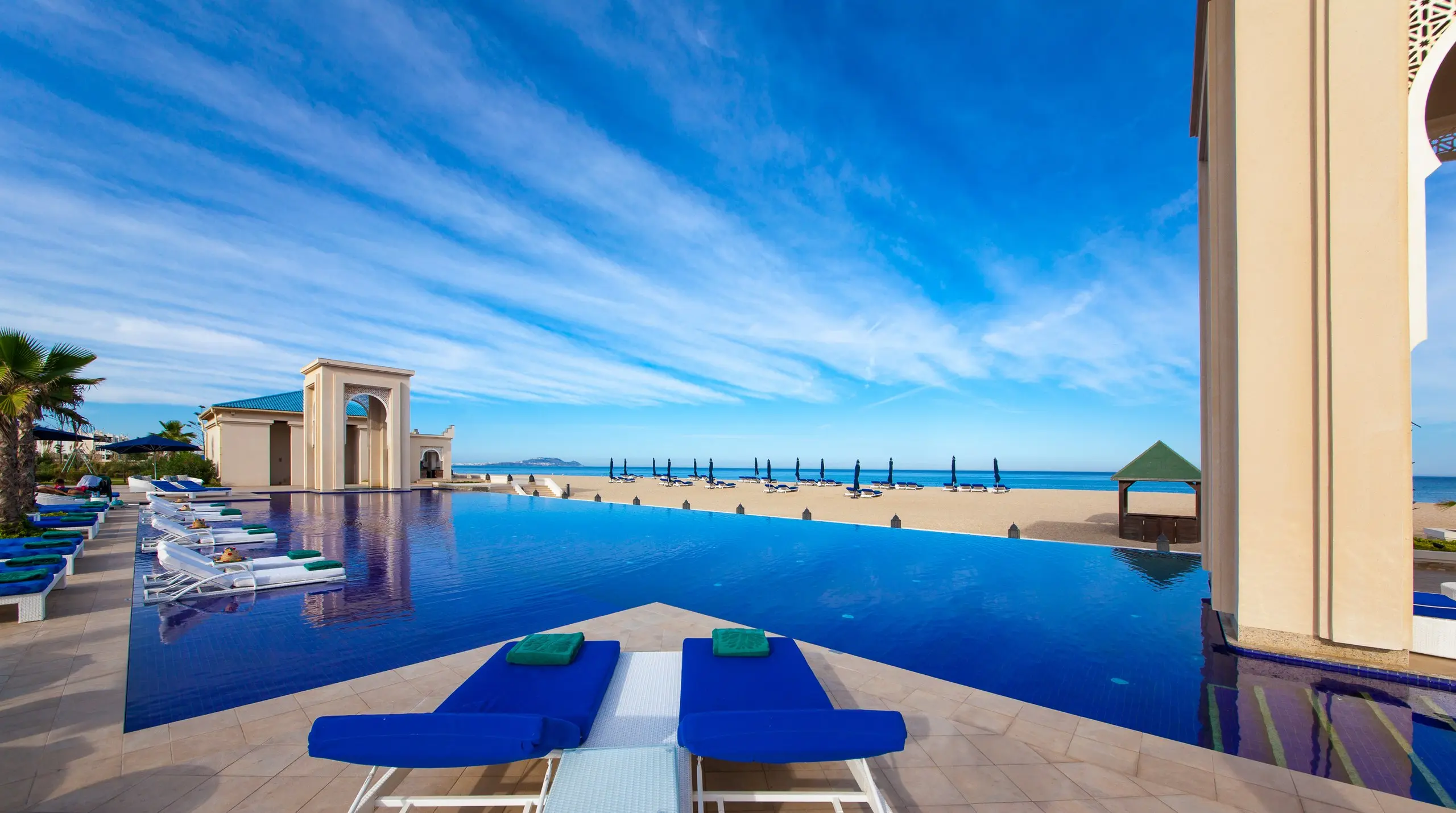 Peace, tranquility, and privacy are guaranteed at this resort. Its architecture, which blends elements of Andalusian and Moroccan design, is a stunning match for the breathtaking vistas of the Mediterranean Sea that are nearby.
A tropical garden spa with a logical therapy program influenced by Eastern healing philosophies is available on-site at this resort. Additionally, guests can have a fantastic food experience while staying here because of the carefully selected dishes that use pure, regionally sourced items.
2. Paradis Plage Surf Resort
With a length of beautiful beach and the Atlas Mountains in the background, this resort is beautiful on earth. It established the benchmarks for environmentally conscious travel in Morocco as the initial eco-resort in the nation.
Another attraction at this hotel is Surf House, a 100 square meter activities space that is ideal for families. There is a beachfront balcony, bar, lounge, outdoor movie theatre, and surfer school in this region.
3. Hilton Tangier Al Houara Resort
An hour's drive from the resort will take you to the Tangier American Legation or the Kasbah of Marrakesh. With its high-quality facilities, including a kids' club, a spa, golf courses, and swimming pools, this hotel is the perfect place for families.
There is no need to worry while carrying a car because parking is offered for free.
4. Hyatt Regency Taghazout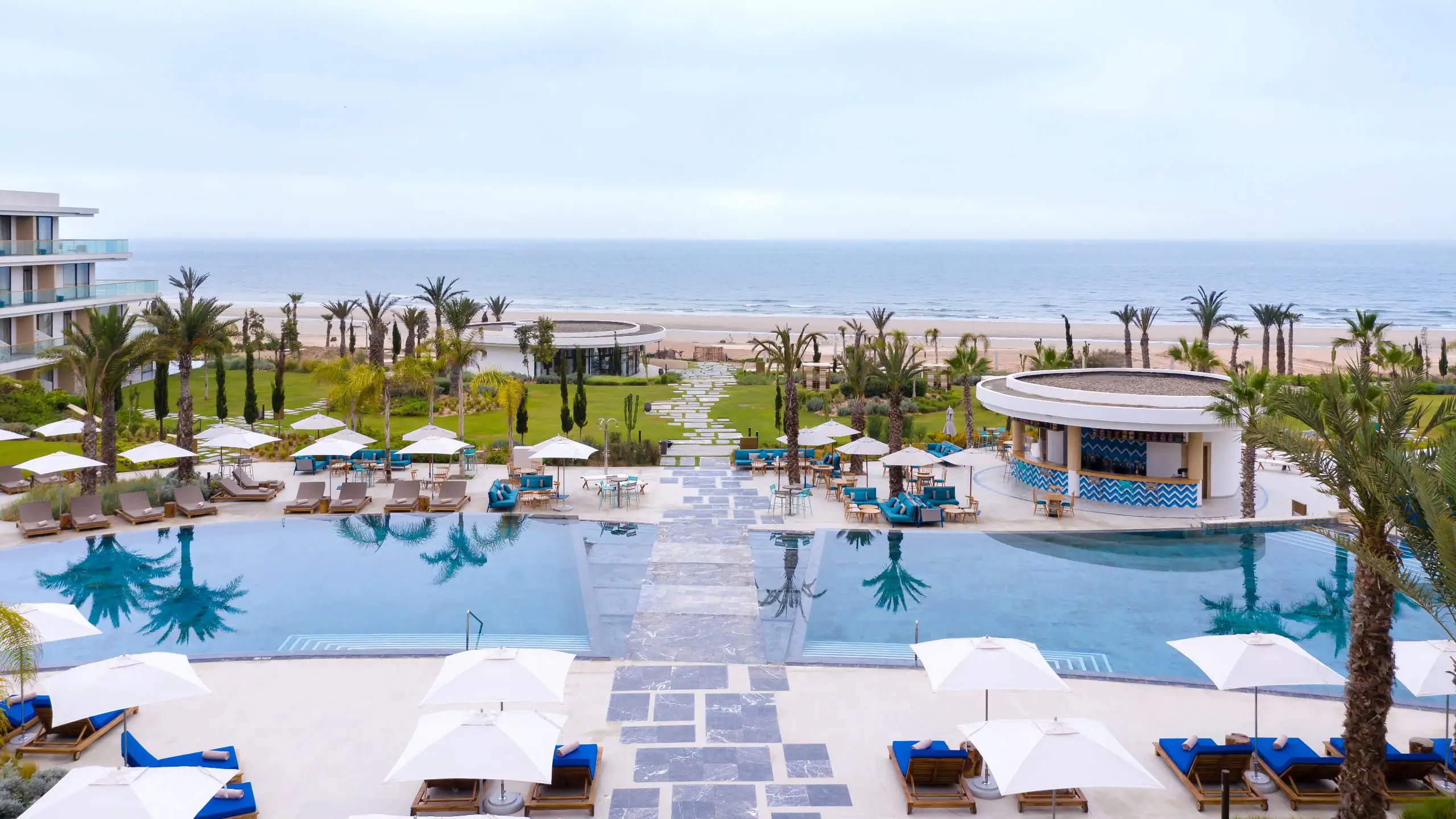 At the foot of the Atlas Mountains, the Hyatt Regency Taghazout is ideally situated right on the seaside in Taghazout. It ensures that spending a holiday together with your beloved will be unforgettable and pleasant because it is one of Morocco's top five-star resorts.
Guests are invited to take their entire family and pets along.
5. Le Village du Toubkal
It offers limited guest rooms and suites, each of which has a magnificent view of Imlil, making it the ideal retreat from the hustle and bustle of the city. On-site, a genuine Moroccan Hammam offers a variety of age-old therapies. A restaurant inside the building serves Moroccan food with Berber elements.
6. La Tour D'Eole
It is a charming rest stop in Dakhla that is ideally placed on the lovely lagoon between the Sahara and the sea. It promotes sustainable eco-tourism by using sustainable materials and intelligent wastewater treatment systems.
It offers family-friendly windsurfing, upright paddle boarding, and surfer lessons. This resort also provides a variety of tours that let you learn more about the community.
Related Read: Best Beach Towns in Morocco.
Best Resort In Casablanca Morocco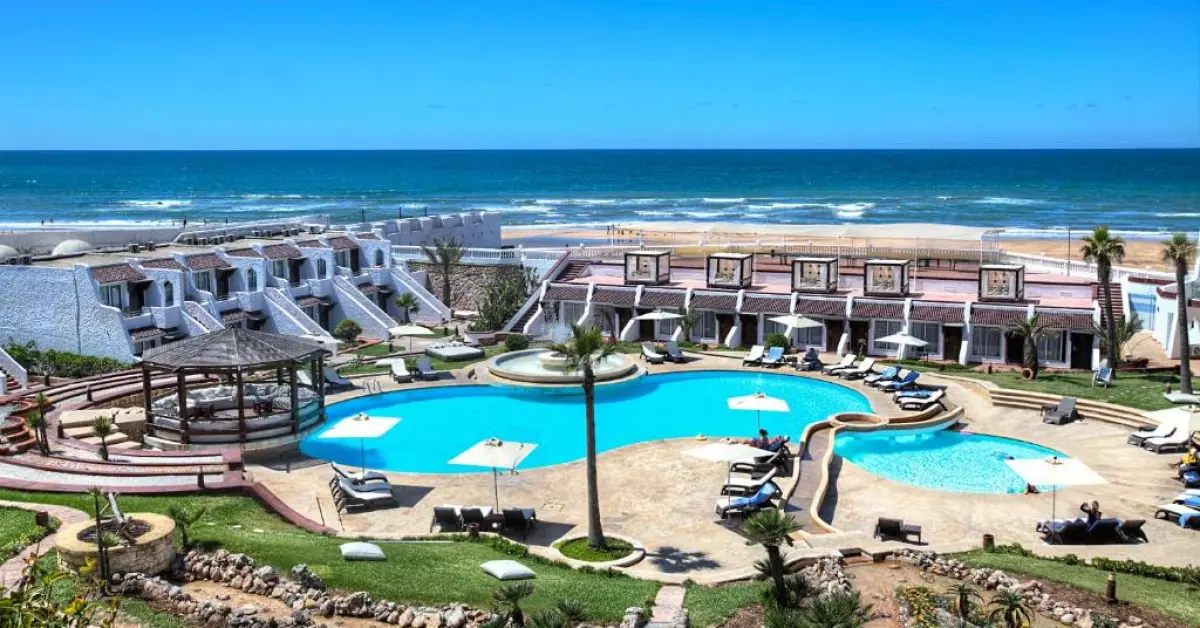 Four Season Resort Casablanca
It is a fantastic option for tourists who wish to take in the bustle of Morocco's largest towns as well as enjoy access to the ocean breezes and all resort amenities. This is a fantastic option for tourists who wish to take in the bustle of Morocco's largest towns as well as enjoy access to the sea breezes and all resort amenities.
Le Casablanca Resort
There are no other locations in Casablanca that provide large outdoor gardens, contemporary swimming pools, and terraces for sunbathing as this one does. There are sufficient food choices in this area that choosing to remain in is simple.
Art Palace Suits And Spa
There are only 25 suites at Art Palace Suites & Spa, a luxurious boutique resort on the edge of the city district. All of the rooms are uniquely furnished, with many decorative flourishes inspired by an important personality or historical figure.
The menu at Art Age Restaurant features both Moroccan and European food.
Best Place To Stay In Morocco For Beach
The tremendous diversity of Morocco includes more than 1,200 kilometers of coastline. While not all of these are golden beaches, there are some truly beautiful unknown gems.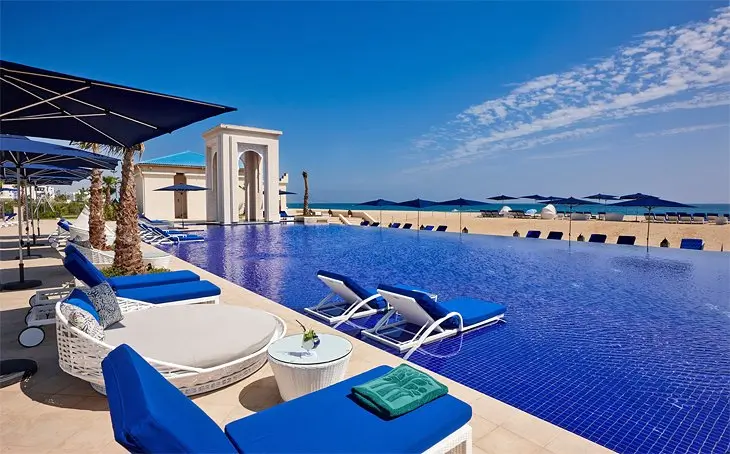 Here are the best places in Morocco for the beach:
Banyan Tree Tamouda Bay
Mazagan Beach and Resort
Sofitel Tamouda Bay Beach
La Sultana Oualidia
Grand Mogador Sea View Hotel
Beach Of Mirleft
Ain Diab Beach
FAQS: Family Resort In Morocco
The abundance of sights, fantastic weather, and entertainment make Morocco an excellent destination for family trips. The nation has a lot to offer people of all ages. The beaches are spectacular, featuring gorgeous dunes, a mild sea, and crystal-clear waterways.
Yes, there is a vast variety of beach places, with anything from luxurious resorts ideal for visitors. The Atlantic and the Mediterranean have combined to create many stunning beaches along the Moroccan coast.
The Bottom Line
When you reserve fantastic Morocco resorts, you may ensure that the entire family's coming holidays will be enjoyable. All the services you need for an enjoyable family vacation can be found at these resorts.
Look out for all these best resorts in Morocco to start making travel plans for a special family trip. Hopefully, this article will help you to choose the "family resort in Morocco".