Morocco Desert Camping is a unique way to feel like a real nomad living in the middle of nowhere Sahara Magic Tours offers a wide range of Camping in Morocco which allows you to have a unique opportunity to sleep in a tented camp in the middle of the desert, to experience how the nomads ( indigenous people of the Sahara ) used to live when they are traveling with their camels. and for sure this night is going to be the highlight of your visit to the desert.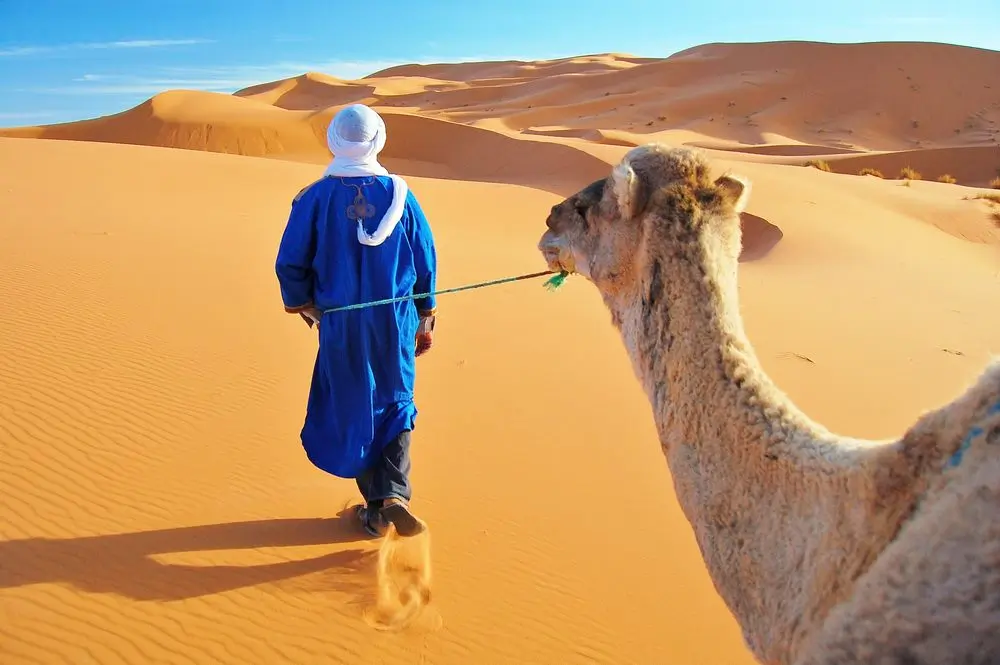 We offer two categories of morocco desert camping:
Erg Chebbi Traditional Berber Desert Camp:
Erg Chebbi Traditional Berber Desert Camp is a camp set in a flat area with few trees (oasis) around. The tents are lined up in a square within it a fireplace in the center. These traditional tents are made of a mix of goat and camel hair. The toilet is set out in the camp and it is for public use. Inside each tent, you will find mattresses and blankets to sleep in comfort. Dinner is served in the dining room in wintertime. After that, the staff will set the fireplace and they will start playing local drums music.
-All meals, drinking water, hot drinks, and guided camel-ride are included in your stay at the traditional Berber desert camp.
Also read: Things to do in Morocco in December.
Erg Chebbi Deluxe Desert Camp:
Sahara Magic luxury desert camp is well-equipped with everything you will need to have a great guest experience that will cherish from the desert drive. The Tents provide hotel room comfort. You will have your private tent with private toilets and a hot water shower inside. In the deluxe desert camp, you can try out some desert activities like camel trekking, sandboarding. After dinner time, enjoy the Berber ambiance around the campfire under the amazing starry night, clear sky, or Full-Moon.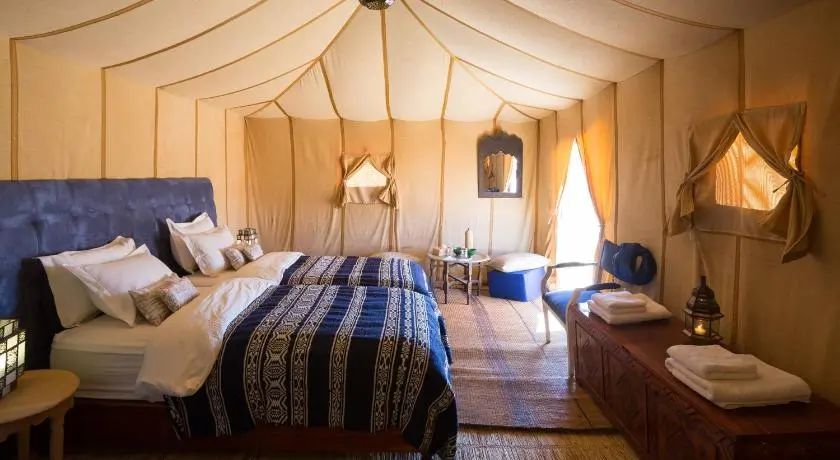 -All meals, drinking water, hot drinks, and guided camel-ride are included in your stay at the erg Chebbi deluxe desert camp.
Also read: Top 3 Cities to Visit in Morocco.
How the morocco desert camping works?
After your arrival in the desert, we will drive you to the camels that will take you on a trek through the golden sand dunes for 1 hour to reach your desert camp ( option for 4×4 Toyota Landcruiser to reach camp 15mins ). once you arrive at the desert campsite' we cook you a traditional Moroccan dinner. Afterward, you can spend the evening around the fire. We can tell you about Morocco, nomads' culture, and music, or you can gaze into the starry night sky and enjoy the peaceful silence of the desert.
The next morning you can wake up to the rising sun. We prepare your breakfast. And after breakfast, we continue your tour to your favorite destination according to your plan.
For more information, contact us: contact.saharamagic@gmail.com