A Custom-made Private Morocco Tours, Perfectly crafted Just For You!
With private Morocco tours, you will have time to explore different sites and regions. Get an authentic taste of all that Morocco has to offer. Explore Morocco's four imperial cities, Ride camels through the Sahara Desert ( Erg Chebbi or Erg Chigaga ) and spend a night or two in desert tents in the middle of nowhere.
Relax in a traditional Hammam, spend some nights in a Riad which is a traditional Moroccan house with an indoor garden and courtyard located in Old Town ( Medina). For Hiking lovers, Morocco offers an opportunity to trekking high atlas mountains and hiking through the valleys and gorges.
Visits to historical and archaeological sites. For travelers who would love to cool off by the beach and skip the desert, there is an alternative route along the Mediterranean and Atlantic coasts.
Our private Morocco tours are packed with traditional experiences and local interactions, making it ideal for any traveler who wishes to truly absorb the fascinating history, culture, food, nature and landscapes of Morocco.
From start to finish, we provide personalized attention to make sure that your Morocco tour is exactly how you want it. On our tailor-made private morocco tours we can arrange just about anything for you – and we are very creative. You want to tour Morocco with experts so don't just take our word for it… Sahara Magic is Awarded Tripadvisor's Travelers choice 2020, 2021, 2022, and 2023.  Check out our Reviews.
Private Morocco Tours - Unique Trip Ideas You'll Love
Itinerary #1 : Maghreb Highlights : Marrakech To Casablanca Tour ( 10 Days )
On this 10 Days Private Morocco Tour From Marrakech To Casablanca, you will travel with your friends or family as well as our driver with a private 4×4 vehicle or Minivan, visiting some of the most beautiful natural highlights of Morocco : Ounila valley, Kasbahs and Ksours, Skoura Oasis, Dades Valley and its giants Canyons, Todra Gorge, Petroglyphs, Sahara desert Erg Chebbi, Fes and Chefchaouen.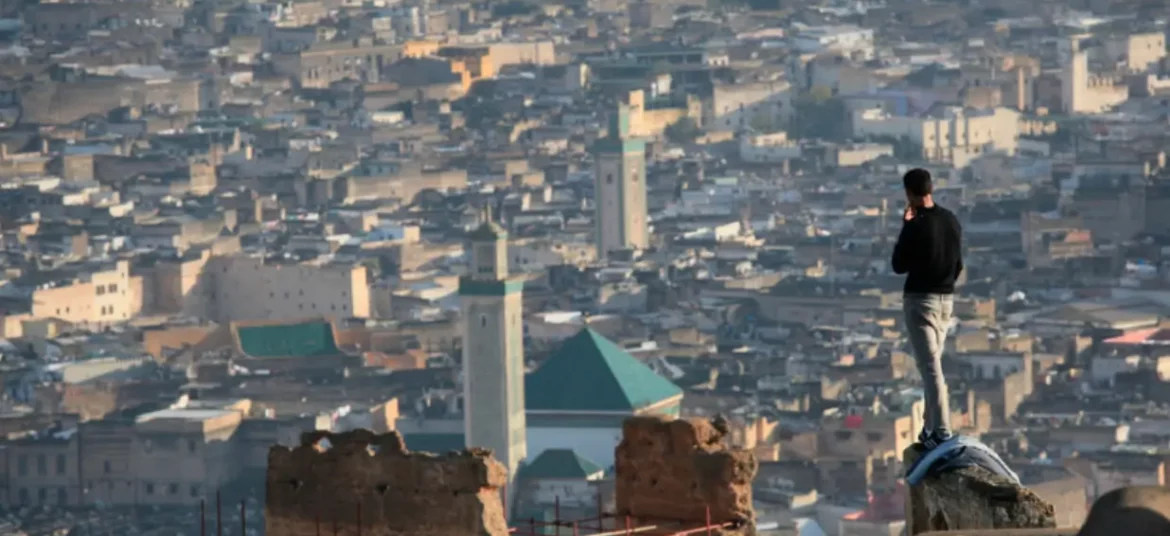 Tour in Brief :
| | | |
| --- | --- | --- |
| Day  | Highlights  | Overnight  |
| #1 | Marrakech To Skoura Through High Atlas Mountains, Visits to Kasbah and Ksours | Skoura Oasis |
| #2 | Walk Skoura Oasis, Hike Dades Canyons and Have a Picnic Lunch in the Almond Valley | Almond Valley |
| #3 | Visit Todra Gorges and Ride camels in Erg Chebbi Dunes. | Desert Erg Chebbi |
| #4 | Learn About Nomads lifestyle and Discover The Desert Petroglyphs.  | Desert Erg Chebbi |
| #5 | Travel To Fes Via the Middle Atlas Mountains and Ifran.  | Fes Medina |
| #6 | Explore The Medina of Fes with a Private Guided Tour.  | Fes Medina |
| #7 | Travel to Chefchaouen Bleu Town Via Meknes and Volubils  | Chefchaouen |
| #8 | Visit Tangier, Hercules Caves and Spend a night in its Fascinating old town.  | Tangier |
| #9 | Travel through Morocco's Atlantic CoastTo Rabat Via Asilah.  | Rabat, The Capital |
| #10 | Visit Rabat and Transfer to Casablanca.  | Casablanca |
This private Morocco tour  Marrakech To Casablanca through the high atlas mountains Tizi N Tichka. Visits the adobe villages Kasbahs and Ksours ( Telouat, Ait Benhaddou, Amridil ).
Hike through the canyons of dades and enjoy a picnic lunch in the almond valley. Enjoy the desert camel ride and spend 2 nights in a desert camp well equipped for a comfortable stay. Meet local people, nomads. Learn about the fascinating history, culture, food, nature and landscapes of Morocco. 
Travel to Fes via the middle Atlas mountains. Explore Fes scenic and lively medina (old town) and souks (markets). The next day, before traveling to Chefchaouen, Visit Morocco's best-preserved ancient Roman complex at Volubilis and the smaller imperial city of Meknes.
Next day, after enjoying the bleu town at leisure. Travel to Tangier and Rabat and visit their main sights such as, Tangier American Legation, Old Medina, Hercules caves. Visit Rabat Oudayas Kasbah and Hassan Tower before Heading to Casablanca. Learn More.
Itinerary #2 : North To South : Tangier To Marrakech
Private Morocco Tours from Spain can be the best option for those who are boarding To tangier from Spain by ferry. This 9-day Tangier To Marrakech  will take you Visit ancient stone-walled cities, snow-capped mountains and the Sahara desert!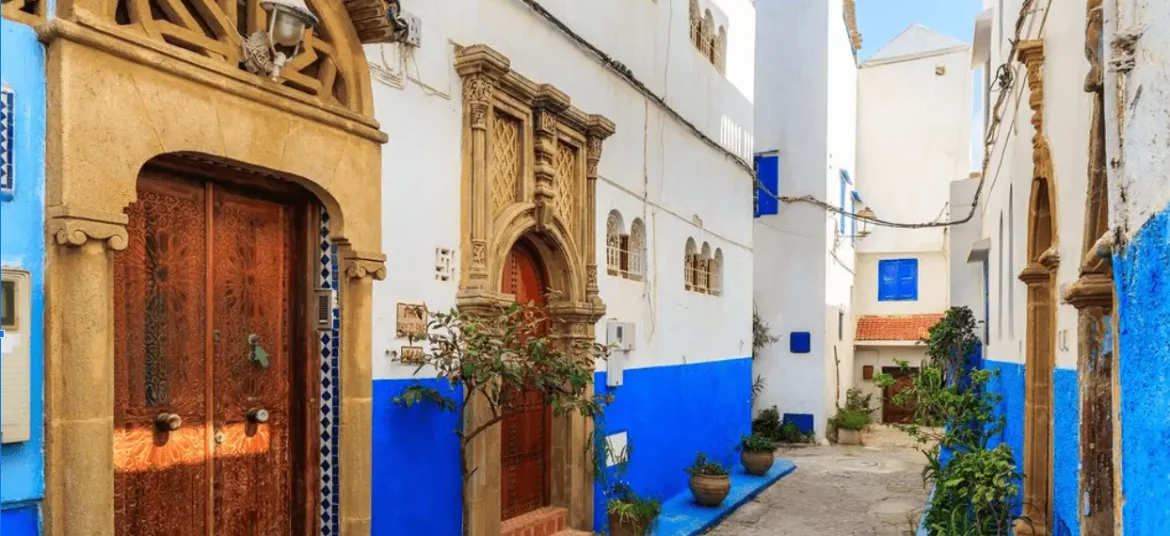 Tour in Brief : 
Day
Highlights 
Overnight 

#1

Explore the Captivating Medina of Tangier & Chefchaouen Bleu Town

Chefchaouen 

#2

Travel To Fes Via Meknes and Volubilis

Fes Medina

#3

Explore The Medina of Fes with a Private Guided Tour. 

Fes Medina

#4

Fes to Desert Camp Via the Middle Atlas Mountains and Ifran 

Desert Tent

#5

Desert Camp To Dades Valley Via Todra Gorge

Almond Valley

#6

Hike Dades Canyons and Have a Picnic Lunch in the Almond Valley.

Almond Valley

#7

Travel To Marrakech Through High Atlas Mountains, and enjoy Visits to Kasbah and Ksours

Marrakech Medina

#8

Explore Marrakech with a Private Guided Tour

Marrakech Medina

#9

Transfer to the airport at your flight time in Marrakech Or Casablanca. 

Departure
Uncover the essence of this enticing country on a private tour through ancient cities, medieval bazaars and high mountain villages. Admire the impressive Bleu Town. Explore Fes scenic and lively medina (old town) and souks (markets). The next day, Travel via the Middle atlas mountains, Ifran, Arriving in the Sahara Desert by the afternoon to enjoy Camel ride and spend a night in a desert camp with berber ambiance.
go behind the scenes of a film maker's heaven in Ait Benhaddou. discover the dramatic red dunes of the Sahara Desert and hike the valley of human bodies. Journey into Morocco's heart through its food, religion, language and culture to better understand this exciting nation and passionate people. Learn More.
Itinerary #3 : Morocco's Wild Side : Casablanca To Marrakech
This private 5 day tour from Casablanca to Marrakech will take you to  the wildest desert Erg Chigaga in Morocco with sand dunes around 60m high. It is less developed and it takes a 2 hours off-road journey by 4×4 vehicle to reach the great dunes. You will be off the beaten path, yet despite that, you will be traveling within Morocco's largest protected national park, a rich desert wilderness.
This Private tour is a great escape for those travelers who prefer to spend more time in the wild and learn about nomads lifestyle while living the same way.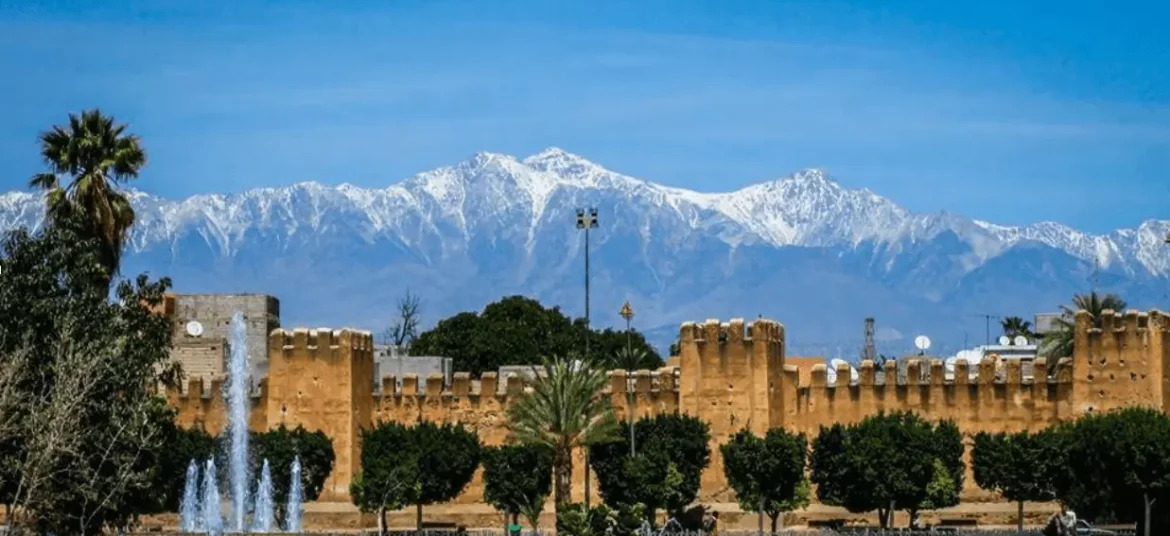 Tour in Brief : 
| | | |
| --- | --- | --- |
| Day | Highlights  | Overnight |
| #1 | Travel through the high atlas mountains To Ouarzazate, visiting Kasbahs and Ksours | Ait Benhaddou |
| #2 | Head to Erg Chigaga through the Draa valley Via Tamegroute and Mhamid  | Erg Chigaga Camp |
| #3 | Camel Riding for a day and picnic lunch in the Oasis in the Desert. | Erg Chigaga Camp |
| #4 | 4×4 Desert Tour, Visiting the nomads and Enjoy Learn about their lifestyle | Erg Chigaga Camp |
| #5 | Cross The Iriqui National Park on your way To Marrakech | Marrakech |
On the first leg of the journey, you will be picked up in your accommodation in Casablanca or Marrakech and drive through the high atlas mountains Tizi N Tichka. Visits the adobe villages Kasbahs and Ksours ( Telouat, Ait Benhaddou). Spend a night in restored old kasbah with breakfast and evening meal.
Continue your driving the next day through the Draa valley passing via Agdz, Zagora and M'hamid El Ghizlane (where you'll leave the tarmac road behind).
Drive off-road for 2hrs to reach camp, arriving well before the sunset with a chance to do camel trekking and climbing the nearby large dunes of erg chigaga. Watch the sunset from the golden dunes. Enjoy the campfire and star-gaze. Evening meal & breakfast included on both nights.

Learn about the nomads and live a wild experience in one of the wildest deserts in Morocco. Learn More.
Recommended Activities for your Private Morocco Tours :
On Private Morocco Tours, there are opportunities to enjoy different activities that can be added to your Morocco Trip. It is suitable for both couples and families. 
In Chefchaouen :   You can enjoy hiking in Akchour Waterfalls, 30 kms away from Chefchaouen. The hike takes around 2-3 hours to reach the GOD's bridge. Enjoy local tagine in the river. 
In Fes :  After your private guided tour in Medina, take a meditation in a Hammam ( Traditional Bath ) or Enjoy Cooking Class in Riad. You can spend a 3 nights in Fes and you can have a day trip to middle atlas mountains with winnery tour in Chateau Roslane in Hajeb. 
In the Sahara Desert :   Spending 2 nights in the Sahara Desert allows you to visit the nomads and try different activities such as : Quad Biking, Buggy, Camel Riding and Enjoy a picnic Lunch in the middle of the dunes. 
In Dades Valley :   Trek the almond valley and hike the dades canyons, Visit the berber family and enjoy a cup of tea with nomads in caves. 
In Marrakech :  The best once in a lifetime activity that you can try in Marrakech is Hot Air Balloon or Cooking Class with Moroccan Family in the New Town of Marrakech. ( 3 nights in Marrakech is Recommended ). 
Private Morocco Tours: Unlocking the Secrets of an Enchanting Land
When it comes to exploring the enchanting land of Morocco, there's no better way to immerse yourself in its rich culture, awe-inspiring landscapes, and vibrant traditions than by embarking on a private tour. Private Morocco tours offer a personalized and exclusive experience that allows you to delve deep into the heart and soul of this captivating country. In this article, we'll take you on a journey through the world of private Morocco tours, highlighting the benefits, unique experiences, and factors to consider when choosing the right tour operator for your adventure.
The Beauty of Morocco: A Brief Overview
Morocco, located in North Africa, is a country brimming with beauty, diversity, and a rich tapestry of history. From the bustling markets of Marrakech to the serene Sahara Desert and the stunning coastal towns, Morocco offers a plethora of experiences for every type of traveler. Whether you're interested in exploring ancient cities, trekking through the Atlas Mountains, or immersing yourself in the vibrant local culture, Morocco has it all.
Benefits of Choosing Private Morocco Tours
Flexibility and Personalization
One of the key advantages of opting for a private Morocco tour is the flexibility it provides. Unlike group tours, private tours can be tailored to your preferences and interests. You have the freedom to choose the duration of your trip, the places you want to visit, and the activities you wish to partake in. Whether you're a history buff, a nature lover, or a food enthusiast, your private tour can be customized to ensure that you make the most of your time in Morocco.
Professional and Knowledgeable Guides
Private Morocco tours are led by experienced and knowledgeable guides who are passionate about sharing their country with visitors. These guides have an in-depth understanding of Morocco's history, culture, and landmarks, and they can provide you with valuable insights and stories along the way. Their expertise ensures that you gain a deeper appreciation for the destinations you visit and allows you to engage with the local culture on a more meaningful level.
Exclusive Experiences and Hidden Gems
One of the most exciting aspects of private Morocco tours is the opportunity to discover hidden gems and experience the country's authentic charm. While popular tourist sites are undoubtedly worth exploring, private tours take you off the beaten path, unveiling lesser-known attractions and cultural treasures. Whether it's wandering through the labyrinthine streets of a medina, sipping tea with locals in a traditional riad, or visiting a remote Berber village nestled in the Atlas Mountains, private tours offer a chance to create lifelong memories through unique and exclusive experiences.
Tailored Itineraries for Unique Adventures
Unlike pre-set itineraries of group tours, private Morocco tours allow for flexible and customized travel experiences. Whether you have a specific destination in mind or wish to embark on an adventure that combines multiple regions, a private tour operator can create an itinerary that suits your preferences. From exploring the imperial cities of Rabat, Fes, and Marrakech to traversing the majestic dunes of the Sahara Desert or indulging in coastal bliss in Essaouira, the possibilities are
endless when you choose a private Morocco tour. The tour operator will work closely with you to understand your interests, preferences, and travel goals, curating an itinerary that ensures you get the most out of your journey. Whether you're seeking cultural immersion, outdoor adventures, or a mix of both, your private tour can be tailored to create a truly unique and unforgettable experience.
Authentic Cultural Immersion
One of the highlights of a private Morocco tour is the opportunity to immerse yourself in the authentic culture of the country. From exploring the ancient medinas with their bustling souks to participating in traditional Moroccan cooking classes, you'll have the chance to connect with locals, learn about their customs, and gain a deeper understanding of their way of life. Whether it's attending a lively music performance, witnessing traditional artisan crafts being made, or joining a local celebration or festival, your private tour will offer you an authentic glimpse into the vibrant culture of Morocco.
Luxurious Accommodations and Transportation
Private Morocco tours go above and beyond to ensure that your travel experience is comfortable and luxurious. You can expect to stay in handpicked accommodations that showcase the best of Moroccan hospitality, from stylish riads in the heart of the medina to luxurious desert camps under a starlit sky. Transportation is also taken care of, with private vehicles and knowledgeable drivers who will navigate the roads, allowing you to sit back, relax, and enjoy the breathtaking scenery along the way.
Safety and Security
Safety is a top priority when embarking on any journey, and private Morocco tours provide peace of mind in this regard. Tour operators ensure that their itineraries are designed with your safety in mind, selecting reputable accommodations, providing experienced guides, and taking necessary precautions throughout the trip. With the guidance of professionals who are familiar with the local landscape and customs, you can explore Morocco confidently and securely.
How to Choose the Right Private Morocco Tour Operator
When selecting a private Morocco tour operator, it's important to consider a few key factors to ensure a seamless and memorable experience.
Research and Reviews
Start by conducting thorough research on different tour operators. Read reviews and testimonials from previous travelers to get a sense of their experiences. Look for operators with a solid reputation, positive feedback, and a track record of providing exceptional service.
Customization Options
Consider the level of customization offered by each tour operator. Do they provide flexibility in creating tailored itineraries based on your preferences? A reputable operator will take the time to understand your interests and curate a unique journey that aligns with your expectations.
Price and Value
While price is a factor to consider, it shouldn't be the sole determinant. Evaluate the value provided by the tour operator in terms of the quality of accommodations, expertise of guides, included activities, and overall level of service. A slightly higher investment in a reputable operator can often result in a significantly better experience.
Conclusion
Embarking on a private Morocco tour is an invitation to discover the magic and allure of this captivating country in an intimate and personalized way. From the vibrant souks of Marrakech to the vast expanse of the Sahara Desert, each moment is crafted to immerse you in the rich tapestry of Moroccan culture, history, and natural beauty. With flexibility, exclusivity, and tailored experiences, private Morocco tours offer an unforgettable journey that will leave you with cherished memories for a lifetime.
Private Morocco Tours FAQ :
Private Morocco Tours: 10 Steps to Plan Your Dream Trip
Morocco is a beautiful and diverse country that offers something for everyone. From the bustling markets of Marrakech to the pristine beaches of Essaouira, there's no shortage of sights and experiences to enjoy. If you're planning a trip to Morocco, you may want to consider a private tour. Private Morocco tours offer a personalized experience that allows you to see the country on your own terms. Here are 10 steps to help you plan your dream trip:
Step 1: Choose a Tour Operator The first step to planning your private Morocco tour is to choose a tour operator. Look for a company that specializes in private tours and has experience in Morocco. Read reviews and check the company's credentials to ensure that they are reputable and reliable.
Step 2: Decide on Your Itinerary Morocco is a vast country with many attractions to see. Decide on your itinerary based on your interests, budget, and time constraints. Popular destinations include Marrakech, Fes, Chefchaouen, the Sahara Desert, and the coastal city of Essaouira.
Step 3: Choose Your Accommodation Morocco offers a variety of accommodation options, from luxurious hotels to traditional riads. Decide on the type of accommodation that best suits your needs and budget. Consider factors such as location, amenities, and reviews from previous guests.
Step 4: Plan Your Activities Morocco offers a range of activities, from camel trekking in the Sahara to exploring the winding streets of the medina. Decide on the activities that interest you the most and plan your itinerary accordingly.
Step 5: Determine Your Mode of Transportation Private Morocco tours typically offer a range of transportation options, including private cars, 4×4 vehicles, and minibusses. Consider factors such as comfort, convenience, and the size of your group when deciding on your mode of transportation.
Step 6: Consider a Local Guide A local guide can enhance your experience by providing insider knowledge and helping you navigate local customs and traditions. Consider hiring a local guide for at least part of your trip.
Step 7: Prepare for Your Trip Morocco has a unique culture and climate, so it's important to prepare accordingly. Pack appropriate clothing, including comfortable shoes and a scarf to cover your head when visiting religious sites. Research local customs and etiquette to avoid unintentionally offending locals.
Step 8: Stay Safe While Morocco is generally a safe country for travelers, it's important to take precautions to stay safe. Avoid walking alone at night and keep an eye on your belongings in crowded areas. Follow the advice of your tour operator and local guides.
Step 9: Immerse Yourself in the Culture Morocco is a country with a rich history and culture. Take the time to learn about local customs, traditions, and cuisine. Immerse yourself in the culture by trying local foods, attending a traditional music performance, or participating in a local festival.
Step 10: Enjoy Your Trip! Finally, relax and enjoy your trip. A private Morocco tour is an opportunity to explore this beautiful country on your own terms. Take in the sights, sounds, and smells of Morocco and create memories that will last a lifetime.
In conclusion, a private Morocco tour is an excellent way to explore this beautiful and diverse country. By following these 10 steps, you can plan your dream trip and create an unforgettable experience.